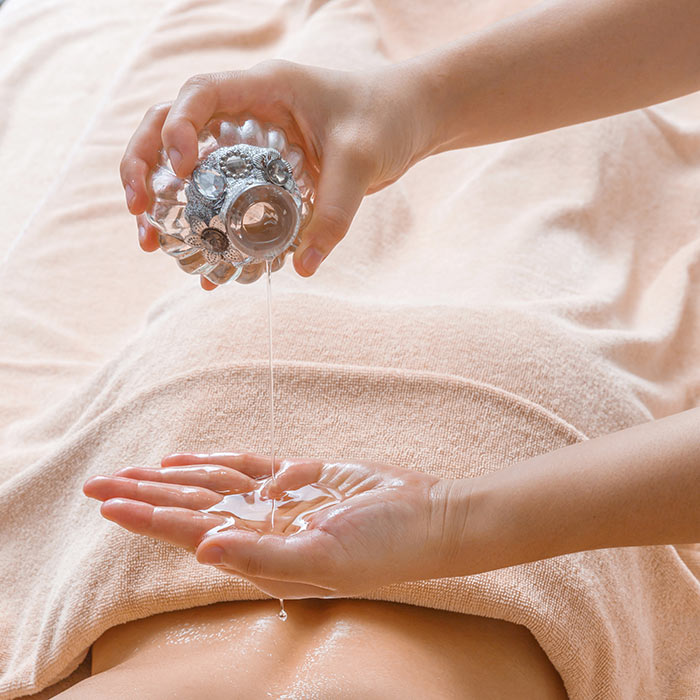 Beginning with a welcoming ritual, each body treatment has been thoughtfully crafted to address body health and wholeness. Laurie's signature massage style incorporates her years of experience and depth of knowledge with an intuitive understanding of spirit and energy. Experience a profound relaxation that promotes healing and rejuvenation.
Laurie Taylor Signature Massage
Laurie's signature style will take you on a journey of relaxation and relief from day to day stresses. This gentle but firm, methodical approach encourages the release of chronic tension patterns held in the body. A variety of therapeutic and relaxation techniques will be tailored to address your concerns and enhance your experience.
60 min  $107
75 min  $128
90 min  $150
30 min (add on only) $50
Lymphatic Drainage Massage
A gentle, deeply relaxing and rhythmic massage that aids in the body's ability to detoxify and regenerate tissue. Boosts immune system and assists in the elimination of impurities while promoting a heightened sense of health and well-being. Especially indicated both pre and post operatively and to assist in detox and weight reduction programs.
60 min $107
Pre-Natal Massage
Using comfortable positioning and cushioned support, Laurie's signature massage is adapted to pamper the mother to be, melting stress and relieving aches and pains. Creating harmony and a sense of well-being for mother and baby, pre-natal massage can be performed after the first trimester up until time of delivery. Consult with your doctor to see if pre-natal massage is right for you.
60 min  $107
Vital Leg Reflexology
The ultimate relief for tired or heavy legs; exfoliation of legs is followed by a toning wrap to decongest and promote healthy circulation. Finish with full foot reflexology...
60 min  $107
Reflexology
This ancient healing art of applying pressure to reflex points on the foot induces relaxation and rejuvenation to all parts of the body.
60 min  $107
30 min added to any service $55
               Please note that 7% NJ State sales tax is included in the pricing of all massage services.